Trills and Beats
Trills and Beats
(prior page: Noise)
In addition to noise, there is one other type of texture in many bird sounds: beats, which are rapidly repeating rhythmic elements that impart a trilled, burry or buzzy quality to the sound.  A bird sound can have noise, beats, both, or neither.  A sound without noise or beats is called clear.
Any sound that contains a series of elements repeated at about 10/sec or faster (that is, 10 Hertz or faster) will be perceived as a trill.  This could include single notes that are regularly modulated in frequency — that is, single notes whose frequency rises and falls in a regular pattern, resulting in a wavy line on the spectrogram.  A good example is the whinny of the Eastern Screech-Owl, which is one of the simplest and slowest trill-like sounds in North America.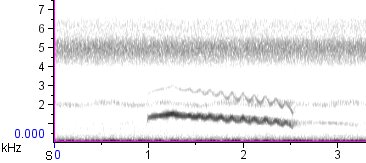 [audio:http://earbirding.com/blog/wp-content/uploads/2009/07/easo1whinny-ndp2007-32-31.mp3]
or it could include series of separate notes, like the monotone trill of the same species: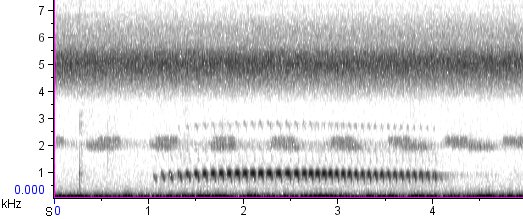 [audio:http://earbirding.com/blog/wp-content/uploads/2009/07/easo1trill-ndp2007-32-31.mp3]
Extra credit: notice that the cricket chirps at roughly 2 kHz are trilled as well, albeit at a much faster rate than the screech-owl's sound.
Once the elements are repeated at a rate too fast to count, it becomes impossible for the human ear to pick up on individual complex details; the details only color our perception of the trill.  Here is a good example: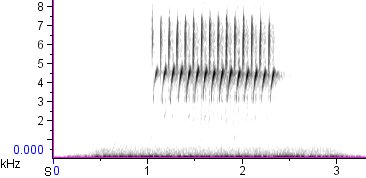 [audio:http://earbirding.com/blog/wp-content/uploads/2009/07/psjus1str-ndp2009-09-07.mp3]
In the above spectrogram, you can see that each element of the junco's trill is itself made of two parts: a gentler, lower-pitched upslur and a much sharper, higher-pitched note.  You probably won't hear the two parts in the trill as separate sounds, however.  In this case, the spectrogram can see detail that the ear cannot detect.
Here is an even more striking example of the same phenomenon.  There is an awful lot going on in the trill at the end of this Marsh Wren's song strophe, more than your ear will ever be able to perceive, but you can probably hear that the trill elements are complex, at least: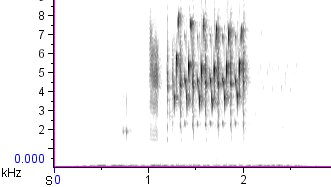 [audio:http://earbirding.com/blog/wp-content/uploads/2009/07/mawrs-ndp2009-18-36.mp3]
The important lesson? Any elements repeated at a rate of approximately 10-20 Hz will likely be perceived as some kind of trill.
Once the rate of repetition gets a little faster, it makes even less difference how complex the elements are: they will simply be perceived as beats in a single sound with a burry tone quality, as in this vocalization of Great Crested Flycatcher: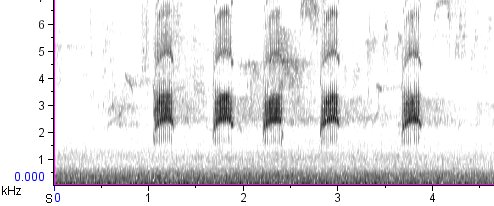 [audio:http://earbirding.com/blog/wp-content/uploads/2009/07/gcfl5burrs-ndp2009-19-28.mp3]
Although our ears are not very good at discerning the details of repeated elements, we are excellent at perceiving the presence of repetition, even when it is quite fast.  The frequency modulations in the song of the Western Tanager are rapid enough and subtle enough that I had to zoom in the spectrogram and change to a wider-band setting in order to get them to show up in the following picture as up-and-down zig-zags, but they are distinct to the ear of the experienced observer, easily marking the song as different from that of the American Robin:

[audio:http://earbirding.com/blog/wp-content/uploads/2009/07/wetas1str-ndp2009-17-12.mp3]
When the modulations get really fast, we tend to perceive them as buzzy rather than burry — a phenomenon we observed earlier in the Black-chinned Sparrow's song.  Because the elements are repeated faster, they are necessarily more nearly vertical on the spectrogram, making them less musical.  Note, however, that sharply inflected elements will always sound buzzy and unmusical even when repeated at slow speeds — the difference between a burr and buzz is, in the end, one of musicality, not rate.
In North America, one of the most rapidly modulated bird vocalizations is the "peent" call of the Common Nighthawk, which is modulated at a rate of almost 250 Hz.  Most spectrograms of this call show merely a black burst of broadband noise: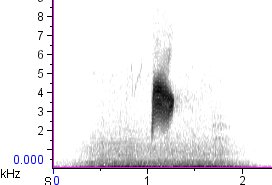 [audio:http://earbirding.com/blog/wp-content/uploads/2009/07/coni1c-ndp2004-03-08.mp3]
But if you zoom way in, you can see the individual modulations:

These modulations are clearly audible as the highly buzzy quality of the sound, which demonstrates the high sensitivity of our ears to repeated patterns, even those repeated at extremely high frequencies.
(next page: Nasality)