Ever heard of Pine Flycatcher?
Ever heard of Pine Flycatcher?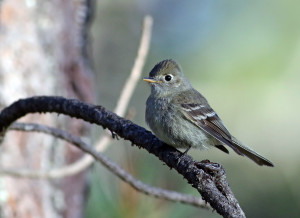 No group of birds in the ABA area is as infamous for being difficult to identify as Empidonax flycatchers. The very utterance of that dreaded name can make a beginning birder quiver in fear, and even the most studied of experts have a healthy respect for the challenge they represent. In earbirding terms, "Empids" are just about the ultimate argument for sound over sight. While they are no longer considered identifiable by voice only (knowledge of their visual identification has progressed by leaps and bounds the past few decades), vocals are still the best way to distinguish the various species.
The purpose of this blog post is to draw attention to one of the least known Empidonax species, one that has yet to appear in the ABA area, but is high on the list of many a birder as a potential vagrant: Pine Flycatcher (Empidonax affinis). An inhabitant of montane forests from just shy of the Arizona border to northern Central America, it favors (as one would expect) pine-dominated woodland.
While Pine Flycatcher has yet to appear north of the border, the species is already somewhat infamous for an "almost" that appeared in 2008-2009. For several weeks, an Empid in Choke Canyon, Texas, caused a good deal of excitement when it was identified as a Pine Flycatcher, both on visuals and vocals. Many listers visited and "ticked" the bird before it was re-identified as a Least Flycatcher. Even though, in the end, the bird wasn't the hoped-for first ABA record, Pine Flycatcher was now "on the radar".
Pine Flycatcher is still a species that could show up some day. As it is also one of the most poorly known Empid species, both visually and vocally, I'm hoping this blog post will help anyone trying to identify them.
Visually, Pine Flycatcher isn't one of the more distinctive Empids. It tends to have an overall greenish cast to the upperparts and whitish/dingy coloration to the underparts, but it is not terribly colorful, even by Empid standards. Structure plays a better clue in its identification, as it has long primary projection (like Hammond's), but also has a long, and narrow, bill with a completely pale mandible. This last feature can be especially useful, as the most common way to see a Pine Flycatcher (at least on the breeding grounds) is to be looking straight up at it as it perches high in a tree.
Away from the breeding grounds, the most commonly heard vocalization of any Empid is typically its contact call. In many species this vocalization is transliterated as a "whit", while in others it sounds more like "pip". Pine Flycatcher falls into the "whit" category, but with an important caveat. Almost all of the other species that have a "whit" call are at a similar pitch, and the difference between the calls are down to subtle differences in note shape that give the call a different quality. Pine Flycatcher is distinctly lower pitched, which gives its "whit" call almost a "pip-like" sound. It is very distinctive once learned, and would be a major piece of evidence in favor of a potential vagrant.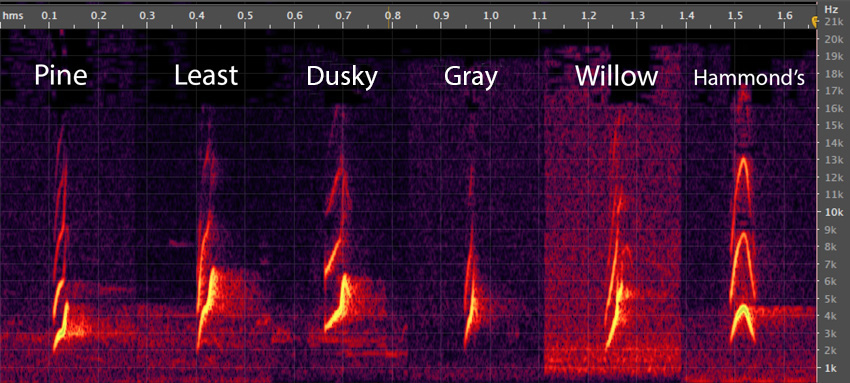 In the graphic above (with thanks to Tayler Brooks for her help in its preparation), note how strongest (brightest) part of Pine Flycatcher's call is nearly 1 kHz below the strongest part of the next lowest "whit", that of Willow Flycatcher. It also has a smaller bandwidth (that is, covers a small range of frequencies), which contributes to the impression of a "pip" like quality. The other main factor determining the sound quality of each species' call is the overall steepness of the note, with a larger rise over a shorter time imparting a "drier" (less musical) quality to the call.  On the far right is Hammond's Flycatcher, just for comparison. Hammond's give a true "pip", the effect of having a call that is cleanly overslurred, without an overall rising pitch. This graphic is also a good one to study to visualize the differences between the western ABA breeding Empid species (the intricacies of their call notes will likely be the topic of a future Earbirding post).  You can listen to the various Empid call notes below:
The song of Pine Flycatcher is also distinctive. Though it is less likely to be heard in the US, it wouldn't be entirely out of the question to have an overshooting bird set up territory somewhere like the Huachucas or Chiricahuas – a pair of Tufted Flycatchers nesting in Ramsey Canyon shows how the crazy isn't entirely impossible! Like many other western Empid species, Pine Flycatcher has a song made up of three phrases, typically mixed together (especially at dawn). These are A) a bi-syllabic "PIT-wee", B) a single syllabled "DIT", and C) a burry "breee". All of these phrases can be preceded by a variable number of quiet "pip" notes, especially phrase C, which nearly always has 3-4 "pips" included. The sonogram below has one of each phrase, given at a natural interval at dawn.  You can listen to the recording the sonogram is made from here.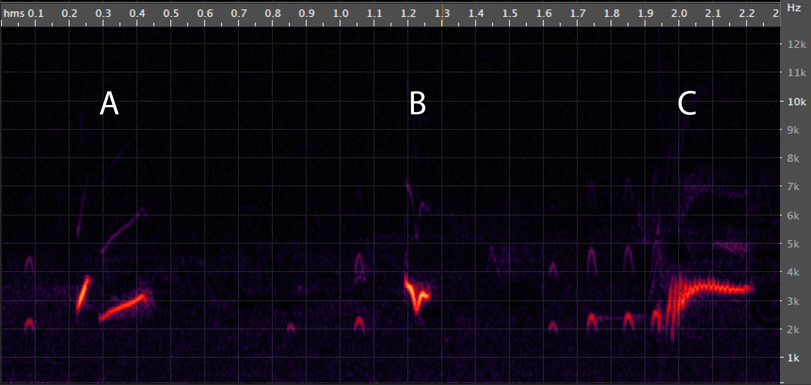 As you would expect, Pine Flycatcher has a whole suite of other, more rarely heard calls. These tend to be analogous to the various calls given by our more familiar species, including a twitter series (the first recording linked below), a "pweep" call indicative of high agitation, superficially similar to calls made by Great Crested or Nutting's Flycatchers (the second recording), and one in the vein of Dusky Flycatcher's "du-hic" call (no publicly available recordings). These calls are unlikely to be heard from a vagrant bird, but should you find yourself standing in some towering pine forest in Mexico you would do well to keep an ear out for them!
Finally, there has been quite a bit of talk about a potential split of Pine Flycatcher involving differences in birds found north and south of the Isthmus of Tehuantepec.  The reasoning given is that the populations found on either side of the Isthmus have notably different songs.  While there aren't a whole lot of recordings of the full song of birds found south of Oaxaca, the ones that I have been able to find (such as this one by Kathi Borgmann, and one kindly sent to me by Knut Eisermann) are disappointingly similar to the birds I've heard from further north.  While there do appear to be some minor differences in one of the phrases, it is perhaps more on par with differences among populations of Willow Flycatcher currently considered subspecies rather than the differences found between most full-fledged Empid species.  However, that is a conclusion drawn from only two recordings.  I'm quite willing to change my mind if someone goes out and gets a larger sample size showing a more profound difference!