Unfamiliarity: A Field Mark
Unfamiliarity: A Field Mark
On the xeno-canto forum, people frequently post unidentified bird sounds from all around the world. I can't be of much help on the mysteries from Europe or Africa or India, but if I see an unidentified sound posted from North America, I check to see if it's something I recognize.
Last year Bates Estabrooks uploaded an odd call he'd recorded in Tennessee. It didn't exactly resemble anything I'd heard before, but I told him it was probably a Tufted Titmouse. Several other people on the forum thread agreed. Here's the sound:
Bates wrote back with a perfectly legitimate question: what made it a Tufted Titmouse? If it didn't exactly resemble anything I'd heard before, how could I be sure?
Here's what I told him:
It's simultaneously pretty simple, and frustratingly difficult. Here's the reasoning I used:

It's very high-pitched (almost entirely above 6 kHz).
It's medium-complex (2-syllabled).
I've never heard anything quite like it (i.e., it doesn't fit for any of the other birds that regularly give very high, 2-syllabled calls, like Brown Creeper or Golden-crowned Kinglet).

"I've never heard anything quite like it" is actually an excellent field mark for Tufted Titmouse (and a couple other species, such as Blue Jay). The frustrating part is that it takes time to get to the level of experience where this field mark is helpful.
When it comes to identifying bird sounds, unfamiliarity can actually be a very useful mark. Of course, it becomes more useful as you learn more bird sounds (and can therefore rule them out). The legendary Ted Parker knew almost all the bird sounds in the Western Hemisphere — so when he heard something unfamiliar in a tape from Bolivia, he postulated that it must be a species new to science (and it appears he was probably correct). Most of us are never going to arrive at this level, of course.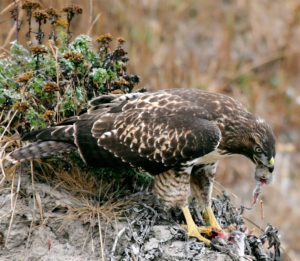 Note that I'm not talking about unpredictability, which is a field mark for mockingbirds, thrashers, catbirds, or Yellow-breasted Chats. Unpredictability is different from unfamiliarity. Unpredictable birds might sing unfamiliar notes or phrases, but then they quickly move on to another type of sound. I'm talking about birds that repeat the same unfamiliar sound over and over.
When I was a young birder in eastern South Dakota, I soon realized that most weird, unfamiliar bird sounds came from Northern Cardinals. When I moved to Massachusetts for college, I learned to bet on Tufted Titmouse as the source of a wacky sound. In graduate school in western Oregon, the vocal tricksters were Hutton's Vireo and Bewick's Wren. And of course, two other consistently unfamiliar birds are Blue Jay (especially in the wide variety of so-called "pumphandle calls") and Red-winged Blackbird (especially the many whistled variations of the alert calls).
I'm curious about other people's experiences. What birds have you learned to identify by their unfamiliarity?