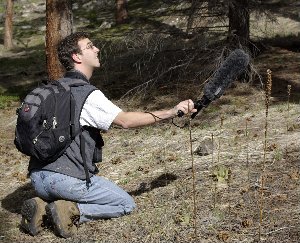 Nathan Pieplow
A birder since my childhood in South Dakota, I got started identifying bird songs by studying the classic "Birding By Ear" field guides in the Peterson series.  It wasn't until 2003, when I faced the frustrations of studying sounds for my first trips to Mexico and Costa Rica, that I fell into my current obsession with finding new and better ways to learn, describe,  and catalog bird sounds.  Along the way I got obsessed with recording and formal bioacoustics too.
I'm not one of those superhuman beings who can identify every bird he hears, or discern the nocturnal flight call of a Blackpoll Warbler as it passes overhead in the dark.  My high-frequency hearing isn't that good, and I don't have a great auditory memory.  For me to learn bird sounds the way I wanted to, I wanted more resources: more recordings, better glossaries, deeper discussions.  So I set out to create my own resources.  These pages are part of the result.
When I'm not on a recording roadtrip, you'll find me in Boulder, Colorado, where I teach writing and rhetoric at the University of Colorado and edit the quarterly journal Colorado Birds.  I have also been involved in the development of the Colorado County Birding Website and the Colorado Birding Trail.  Contact me at npieplow@gmail.com.
———————————–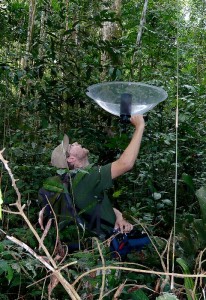 Andrew Spencer
I started watching birds when I was about five, but didn't start recording until after my first trip to South America, to Ecuador in 2006. While there I realized that the ability to record birds in the tropic was absolutely fundamental to fully enjoying South American birding, and as soon as I got back I bought my first recording rig.
In the few years since then I have become ever more deeply obsessed with recording…what at first was something to help call unknown birds in and document unknown sounds for later identification became a quest to record as many species, songs, and call types as I could. As a result I have traveled around much of the US and South America recording birds.  Contact me at gwwarbler@gmail.com