Learn to Record Birds
Learn to Record Birds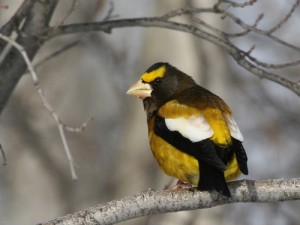 Some people have asked how I learned to record bird sounds.  The answer is simple: in 2004, I took the Macaulay Library's annual Nature Sound Recording Course in California.  If you're interested in getting into audio recording in nature, I can't recommend this course more highly.
The price ($945 in 2010) is tremendously reasonable, given that it includes all the personal attention, intensive training, transportation to local recording locations, amazing (though rustic) accommodations, and great food that you get for the entire week of the course.  It's held in a spectacular area of the country that allows participants to record in at least four completely different habitats in as many days, all the way from the sagebrush steppe and cattail marshes of the valley floor to the high-elevation spruce-fir forest and willow carrs of Yuba Pass and vicinity.
I arrived at the Sierra Nevada Field Campus never having wielded a microphone of any kind, never having worn recordist's headphones, never having analyzed a single bird sound spectrographically.  I didn't own a single piece of recording equipment.  Luckily, however, the Library was able to lend me some.  In fact they lent me several different rigs over the course of the week, so that I gained experience recording in both analog and digital formats, through both parabolic and shotgun microphones.  In a way, since I had already decided I wanted to save money to buy equipment, the workshop turned into a kind of extended test drive of potential future purchases.  I was able to keep all the recordings I made, and they became the nucleus of the recording library I've been compiling since then.
If you get a chance to participate in this workshop, jump at it.  If there's one thing this world definitely does need in my opinion, it's more people running around pointing microphones at birds!