Happy Merganser Day!
Happy Merganser Day!
It's March 4th, and that means it's time to wish you all a happy Merganser Day.
What is Merganser Day, you ask?  It's my own personal birding holiday.  It commemorates one of the most important days in my life as a birder: March 4th, 1992.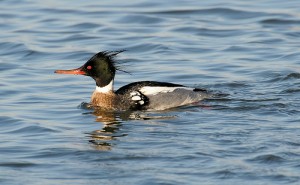 At the beginning of high school, I was already an obsessive birder, but not yet a good one.  I had nearly memorized the field guide and was ready and eager to see all the birds it illustrated, but I had encountered few of them in real life.  My backyard seemed to contain only the common birds — robins, Mourning Doves, Downy Woodpeckers, crows — and I was solidly convinced that Sioux Falls, South Dakota was inhabited by only about fifty species of birds and one serious birdwatcher: me.
My first hint to the contrary came at the start of 1991, when I discovered a book called The Birds of South Dakota on the shelves of the public library.  It was full of sightings of outlandish exotic birds (Scarlet Tanagers!  Rose-breasted Grosbeaks!  Black-throated Green Warblers!) from right inside Sioux Falls, with dates and names of observers — lots of observers.  I was electrified.  It seemed I had a lot of catching up to do.
I started birding every day that spring — and lo and behold, birds appeared in the "empty" woods: Red-bellied Woodpeckers, Eastern Phoebes, Hermit Thrushes, Brown Creepers.  In the month of May alone I found 20 lifers on walks from home.  But still I was birding all by myself.  I was intimidated by the thought of contacting the rest of the birding community, convinced they knew far more than I did and had seen many more birds.  So for the next year it was just me and The Birds of South Dakota.
Then, on March 4th, 1992, I saw a bird that changed the game: a Red-breasted Merganser in Lincoln County.  According to the book, I had beaten the earliest-ever spring sighting away from the Missouri River by almost three weeks.  I decided it was time to tell someone — and that's how I ended up getting involved with the South Dakota Ornithologists' Union, the Sioux Falls Bird Club, the Christmas Bird Count, etcetera.  In short, that merganser ended up marking my official entry into the birding community.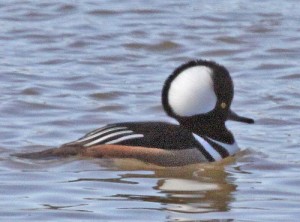 By complete coincidence, it was three years later to the day when I saw my lifer Hooded Merganser on a pond in Cochituate, Massachusetts, forever cementing March 4th as "Merganser Day" in my mind.  Hooded Merganser remains my all-time favorite duck.
I have gone birding every March 4th since 1995, usually trying to find a merganser if I can.  In 1997 in Irkutsk, Russia it was Goosanders  in the Angara River.  In 1998 in western Massachusetts  it was Common Mergansers on the Hoosic.  The last few years in Colorado I've found all three species with ease, but in 1999 in South Dakota I had trouble finding open water and had to settle for a Wood Duck at somebody's farmhouse water fixture.
This morning, for a change of pace,  I decided not to chase after ducks.  Instead I sought out a pair of White-winged Crossbills in Fort Collins, which satisfied the birding bug quite nicely, thank you.
I know this post has been low on bird sounds so far, so here's a link to Russ Wigh's recording of the wonderful growling display of Hooded Merganser to tide you over.  There will be more bird sounds coming just as soon as I can figure out how to fix the unfortunate bug on my computer that isn't letting me listen to or edit my old recordings at the moment.  Sigh….