Review: Songs of the Warblers
Review: Songs of the Warblers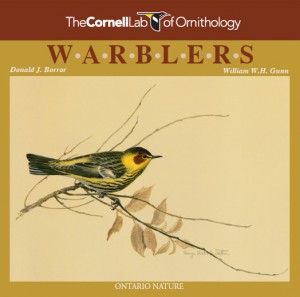 In 1985, the Cornell Laboratory of Ornithology partnered with the Borror Lab of Bioacoustics and Ontario Nature to produce Songs of the Warblers of North America on LP by Donald J. Borror and William W. H. Gunn.  No other source of that time period could claim to be as comprehensive: it contained no fewer than 280 cuts of song from 57 species of warblers, including mega-rarities from Mexico like Fan-tailed and Golden-crowned Warblers — even the extinct Bachman's Warbler!  In addition, it included recordings of calls for all but eleven of those species.  For decades, this collection was the last word in warbler sounds.
Now, 25 years later, Cornell has re-released this classic, this time in MP3 format for digital download.  The song recordings are just as high-quality as ever, and I'm thrilled by the idea that their digitization might make them accessible to a whole new generation of bird enthusiasts.  But great though it was in 1985, the collection desperately needs to be expanded and revised — so desperately that I'm not sure I can recommend forking over the fifteen bucks for the download.
Here's what I like about the collection:
The songs sound great. The cuts are nicely edited and, at about 25 seconds apiece, just long enough to stay interesting.
They capture the range of variation well in most species.  After listening to the five Borror and Gunn cuts of Olive Warbler song, you'll be totally confused what an Olive Warbler sounds like — but anyone who listens to Olive Warblers for more than an hour in the field will be equally confused, so I call that a job well done.
The coverage of rare species is good.  In particular, those recordings of Bachman's Warbler are true gems.
Here, unfortunately, is what Cornell should do if it really wants to update this guide:
Fill in the gaping holes.  Eleven species lack any recordings of calls whatsoever.  If they were all Mexican vagrants, I might understand, but Wilson's Warbler?  Black-throated Blue?  You've got to be kidding me.
Bring the booklet up to snuff.  The accompanying brochure currently includes only the barest minimum of information.  It says nothing of the behavioral context of the vocalizations.  The "Type A" and "Type B" songs of many species are here, but they aren't labeled as such, nor are subspecies labeled — so I can't tell whether both "Western" and "Yellow" Palm Warblers are represented, for example.
Add flight calls. Andrew Farnsworth and colleages at Cornell have amassed a downright impressive collection of warbler flight calls, including many that don't appear on Evans and O'Brien's classic DVD.  Why not stick them on here?
Add flight songs.  Even the well-known flight songs of Ovenbird and Common Yellowthroat are missing.
Improve geographic coverage and representations of possible splits.  It's nice that Myrtle and Audubon's Warblers are treated separately, but where's "Calaveras" Nashville Warbler?  How about Mangrove Warbler, or at least "Golden" Yellow Warbler?
Include common hybrids.  At a minimum, give us a Blue-winged × Golden-winged gallery with a dash of Hermit × Townsend's.
Add Crescent-chested Warbler. The rarity coverage isn't bad, but by now this species has certainly occurred north of Mexico often enough to merit inclusion.
Nostalgia is great and all, and Borror and Gunn accomplished something truly monumental in their day, but bird sound collections are supposed to be tools, not collector's items.  And as a field tool, this reissue doesn't quite meet the modern standard.
Let's face it: the era of the commercial bird sound collection is pretty much over.  You can pay $15 for Borror & Gunn and listen to four examples of the song of Black-throated Gray Warbler and one example of its calls — or you can head over to Xeno-Canto and download (as of this writing) five examples of song and three examples of calls, completely free of charge.  For better or worse, the internet has democratized bird sound publishing, and anybody who still wants to make money off of sound identification guides has got to add some serious value.
When it published Voices of North American Owls in 2005, Cornell added that value.  The booklet accompanying the two CDs ran to 56 pages and described the behavioral context of each vocalization in detail.  The collection as a whole aimed to catalogue the entire repertoire of each species, and did a pretty darn good job of it.  By and large, the recordings of the common vocalizations were of a higher quality than anything you could download off the internet for free, and the recordings of the rare vocalizations simply weren't available anywhere else.  Add to that the convenience of having all those sounds in one pre-assembled package, and you've got an audio publication well worth the $30 price tag.
With the reissue of Borror and Gunn, the convenience of pre-assembly accounts for almost all the added value.  The quality of the song recordings and the historical significance of the work make up the rest of it.  Whether that totals $15 is a judgment I'll leave to you.
Here's my personal judgment.  If I were the Cornell Laboratory of Ornithology, after performing the genuinely valuable service of digitizing this historic collection, I'd generate some goodwill by donating the whole thing to Xeno-Canto, as Bernabe Lopez-Lanus recently did with his colossal DVD Bird Sounds from Southern South America (6100 recordings from over 1000 species).  Barring that, I'd  invest the time and money it would take to really revise and update the project.  Anything less fails to do justice to the original work of Borror and Gunn.