Larkwire: A Review
Larkwire: A Review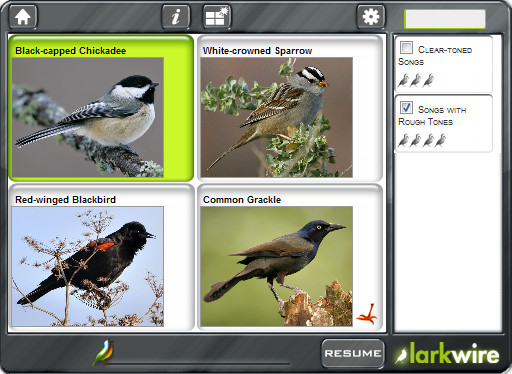 A new website for learning bird songs called Larkwire has just debuted, and it's worth a look.  The brainchild of Phil Mitchell, a cognitive psychologist, it features written identification tips by Michael O'Brien — one of the best earbirders in North America, if not the very best — and a nice collection of recordings of about 350 species from the collections of the Macaulay Library and the Borror Lab.
Larkwire is a web-based tool that requires no downloading and can run on several kinds of smartphones as well as standard web browsers.  All the sounds are streaming.  You can play the demo version with just seven songs for free, but to get access to most of the sounds, you have to purchase a "songpack."  The beginner songpack, with the 25 most common birds for whatever region of the country you're in, costs $6.95.  They've formulated 15 different beginner songpacks for different regions of the country, which is a great idea, but it's been implemented with a pretty serious eastern bias.  Boston, Philadelphia, and Baltimore are in three different regions (with 90% overlap in their most common birds) while Denver and Phoenix, despite their very different birds, have to share a region.
To get more songs, you pay more: the 100-species packs (eastern and western) cost $16.95.  To get the "Master Birder" set of 344 species, you'll have to fork over a whopping $49.95.  On the bright side, 10% of every purchase goes toward conservation.
Once you're loaded up with sounds, you can set Larkwire in motion in a couple different modes, all of which share the same basic idea: to introduce you to small sets of similar songs, and then quiz you repeatedly on those songs.  Even if you catch on quickly and open up a new group of songs, Larkwire keeps tossing in old familiar birds along with the new ones so that your memory stays fresh.  It also lets you customize the groups of songs you'll be quizzed on in just about any way.
Larkwire draws immediate comparisons to the Peterson Birding By Ear series, which for the past 30 years has been the best song-learning tool on the market.  Both Larkwire and Birding By Ear take a similar initial approach, grouping soundalikes together for direct cross-comparison.  Sometimes Larkwire does this well, sometimes not-so-well.  For example, the full "Master Birder" songpack has one group called "Musical & Buzzy," another one called "Delicate, Musical & Buzzy," and a third called "Elaborate, Musical & Buzzy."  The names and contents of all three seem rather odd:
Musical & Buzzy
Delicate, Musical & Buzzy
Elaborate, Musical & Buzzy
Song Sparrow
Vesper Sparrow
Fox Sparrow
Lark Sparrow
Bewick's Wren
White-crowned Sparrow
Lincoln's Sparrow
Savannah Sparrow
Green-tailed Towhee
Savannah Sparrow
Baird's Sparrow
Black-throated Sparrow
Cassin's Sparrow
Bewick's Wren
Red Crossbill
American Dipper
Lark Bunting
When it comes to the quality of the written notes that direct the user's attention to the differences between songs in a group, Larkwire falls consistently short of the standard set by the Birding By Ear series.  But it far surpasses Birding By Ear in its utility for easy cross-referencing, self-testing, and the matching of sounds with photos — and it also covers more species, with many more examples of each sound from across the continent.  Even so, most of the Arizona, south Texas, and Florida specialties are omitted, and so are ALL waterbirds, even Mallard and Killdeer.
The bottom line is that if you're interested in spending the time it takes to memorize hundreds of bird sounds, Larkwire is clearly one of the best tools out there to help you do so.
Note: I have no commercial interest in Larkwire.