Splitting Scoters
Splitting Scoters
I know, I know — you're still reeling from the news that Pacific Wren is being split from Winter Wren.  The last thing you're willing to deal with right now is another taxonomic split based on vocal differences, right?
Somehow, I think you can handle it.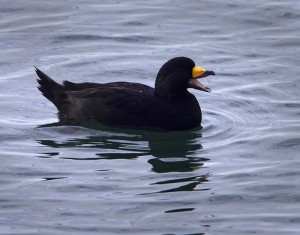 In much of the world, this "new" split isn't even new.  Many authorities, including the British Ornithologists' Union, have classified Black Scoter and Common Scoter as separate species for some time now, in part on the basis of the striking differences in bill color between males of the two groups: the American and eastern Siberian birds ("Black Scoters") have an enormous bright orange knob atop the bill, while European males ("Common Scoters") sport far duller and less decorative schnozzes, making them less conspicuous in flocks of sea ducks — you might consider them the "Stealth" version of the bird.
So far, taking a conservative stance, the American Ornithologists' Union has continued to recognize only a single species, "Black Scoter," Melanitta nigra.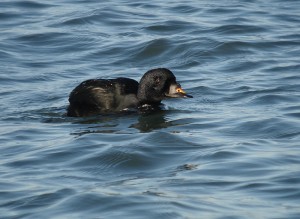 Now comes the best evidence I've seen yet that the two should be split.  In a recent issue of the Wilson Journal of Ornithology, George Sangster has published an analysis of the differences in male courtship calls between Black and Common Scoters.  His analysis boils down to this: Black Scoters sound basically alike across their entire range, and the same goes for Common Scoters; but the two forms can always be told apart by the length of their vocalizations (Black's notes are much longer) and usually by pitch as well (Black's notes are slightly higher-pitched).
You can hear the differences several places on the web.  Here are some Black Scoter sounds from Manitoba, New Jersey (Cape May and Barnegat Light) and from Chukotka in Russia. Note the plaintive, eerie quality to the calls.
The Common Scoter's mating call can be heard on this page (which is in Dutch)…not many recordings of this taxon are online, and all the ones I've found are truncations of the file I just linked.  The notes of the Common male are less than a quarter as long as those of the male Black, and the overall effect is completely different — nothing at all like those long, haunting whistles from America.  (Note, however, that Black Scoters occasionally make some short notes too…listen to the background of the Barnegat Light recording at 2:35.)
Sangster ends his article with the intriguing possibility that White-winged/Velvet Scoters might also show vocal differences in up to three species groups.  But if you think Black/Common Scoters are hard to find on the web, try looking for the other species!  I'll give a gold star to anyone who points me towards any (legal) online White-winged Scoter cuts besides this one!
Here's another beautiful Common Scoter pic: