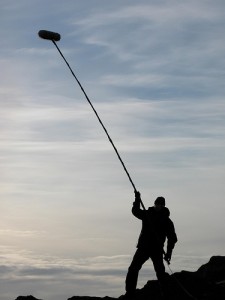 Eric DeFonso has been toying with the idea of getting into sound recording for some time.  On his blog, he reports that he's finally taking the plunge.
Eric hesitated about getting into sound recording for the same reason I did originally — he thought all the good recordings had been made already.  But I think nothing is further from the truth, and it seems I managed to convince him of that.  Now he's signed up for the 2010 Macaulay Sound Recording Workshop.
Here's a quick thought experiment.  Take a moment to think about how many people you know who take bird photographs as a hobby.  Now think about how many amateur sound recordists you know.  The second number is far smaller than the first, of course.
Here in Colorado alone, the photo editor for our journal Colorado Birds has a list of over 30 people he can call on when he needs publication-quality bird photos.  The list isn't even close to comprehensive, and it only samples amateurs.  Meanwhile, I can only think of six people in the state who record bird sounds at all — and that includes a couple who are just getting started, one who basically retired from sound recording years ago, and one who barely spends any time in the state anymore.
Why are people still taking bird photos?  Why are they still taking up the hobby?  Haven't all the good photographs been taken?  No, of course they haven't.  So why worry that all the good sounds have been recorded?
People take photos for many reasons — for enjoyment, for aesthetic pleasure, to memorialize their experiences, to teach themselves something.  All these reasons are just as valid when it comes to sound recording.  A sound recording can snap you back to a particular place and time, right into the middle of an old experience, in a way that even a photo can't do.  It's one of the reasons why radio is still alive and well in the era of the Internet.
Just some things to think about if you, too, have been tempted to take the sound recording plunge.