Boat-billed Flycatcher Feature
Boat-billed Flycatcher Feature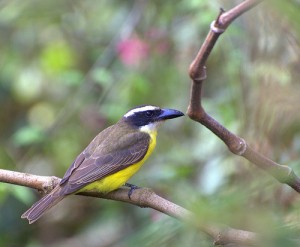 I just published my first feature article for Xeno-Canto.  I figured I should give their blogging functionality a try, and I'm happy with the result.  My subject is geographic differences in the vocalizations of the Boat-billed Flycatcher (Megarynchus pitangua), a Central and South American species that looks much like the Great Kiskadee of south Texas.
For reasons I explained in my recent post on hybrid flycatchers, vocal differences in flycatchers are likely to represent strong genetic differences.  I noticed some time ago that Boat-billed Flycatchers in Central America make some distinctive sounds that Boat-billed Flycatchers in South America don't make, and vice versa.  I thought I would be able to write a quick feature recommending a split — a la my Gray Hawk posts [1 2] — but as I started writing, I realized that Boat-billed Flycatchers make a number of different sounds, some of them geographically variable, others apparently not.  It took me far longer to complete my project than I anticipated, which is one of the reasons why you've seen Earbirding go so long without a new post!
So head on over to Xeno-Canto's feature page to check out my work.  As always, I'd love to hear what you think!