Got Grosbeaks?
Got Grosbeaks?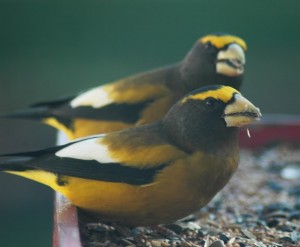 Aaron Haiman is a Master's student in Tom Hahn's lab at the University of California, Davis.  For his thesis research, Aaron is following up on the paper that Tom published with Kendra Sewall and Rodd Kelsey in 2004, the one that described five call types of Evening Grosbeak.
As you will recall, Joseph Grinnell in 1917 recognized five subspecies of Evening Grosbeak on the basis of plumage brightness and bill morphology.  In 1974, the American Ornithologists' Union decided that some of these subspecies were not distinctive enough, and so they lumped them into the three subspecies currently recognized.  However, the five call variants described by Sewall et al. match up quite well geographically with Grinnell's original five subspecies.  So Aaron is setting out to determine whether Grinnell's original taxonomy should be reinstated.  Eventually, he wants to answer lots of interesting questions:
do birds of different call types look any different from one another?
have they diverged genetically?
do other vocalizations vary along with the flight calls?
do they have different habitat requirements?
do they prefer different foods?
do birds of one type respond to the flight calls of other types?
In order to answer all these questions, Aaron needs grosbeaks.  And a great place to find themis at backyard bird feeders.  Aaron has already visited the properties of eight homeowners in three states who reported Evening Grosbeaks at their feeders, and with their generous cooperation, he has set up nets to capture the birds.
Once he captures a grosbeak, Aaron measures it, bands it, takes a sample of its blood, and releases it back into the wild.  Of course, he also audio records the bird's flight call.  On his recent trip to Colorado, Aaron banded 19 Evening Grosbeaks — which isn't a bad haul, but much more data is necessary to unravel the mysteries of the biology of this remarkable nomadic finch.
If Evening Grosbeak is a regular visitor to your backyard, and you are willing to host a banding and recording session, please  e-mail Aaron at anhaiman@ucdavis.edu describing where you live and how many Evening Grosbeaks are coming to your feeders.  So far, Aaron has gotten wonderful support from several generous people willing to open their yards to his research — and if you're willing and able to help, he would love to hear from you.