Pacific Wren, Part One
Pacific Wren, Part One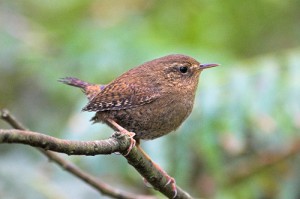 The American Ornithologists' Union Checklist Committee recently updated its slate of taxonomic proposals.  Lots of exciting stuff here, including proposed species status for our old friend, the South Hills Crossbill, and a split of Western Scrub-Jay.  The proposed split I want to focus on today, though, is one that's long in coming, and quite likely to pass, in my opinion: the split of Winter Wren into eastern and western North American species.
Why split the Winter Wren?  For starters, eastern and western populations are 8.8% divergent in their mitochondrial DNA.  (Trust me, that's a lot.)  Songs and calls differ diagnosably.  Furthermore, the two forms nest side-by-side in the northern Canadian Rockies without interbreeding.  Analysis of vocalizations and genetics haven't turned up anything that really looks like a hybrid.  Really, this looks like a pretty straightforward split, even by the "old" biological species criteria.
So, it looks like come next summer, we'll probably have a new taxonomy in the genus:
Winter Wren, Troglodytes troglodytes: breeding from east-central British Columbia east across Canada and down through the Appalachians; wintering in the eastern United States, mostly east of the Great Plains.  It's highly likely that this species will eventually be split from the Eurasian birds, in which case the scientific name of our Winter Wren would revert to Troglodytes hiemalis, a direct translation of its common name in America (Eurasian birds are usually just called "Wren").
Pacific Wren, Troglodytes pacificus: breeding in Alaska through the northern Rockies to the Yellowstone area and down the Pacific coastline to Central California; mostly non-migratory, though wandering casually southward in winter.  The distinctive Aleutian birds would be included in this species.
How do you tell the two apart by sound?  For today, we'll look at the calls, which is the easiest way to identify them, especially in winter.
Calls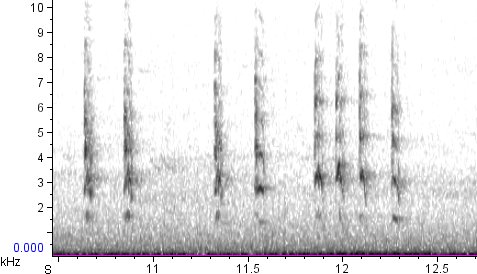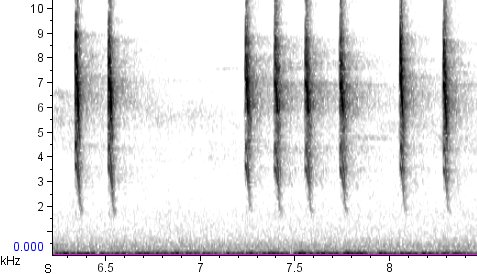 With direct comparison of soundtracks and spectrograms, the differences are obvious.  The Winter Wren's call is much clearer, with discrete harmonic bands; both spectrographically and aurally it is reminiscent of the call of Song Sparrow.  The Pacific Wren, by contrast, has a call that is much noisier and higher-pitched, and, on average, slightly briefer.  It is often compared to the call of Wilson's Warbler.  Although the call may not look higher-pitched on the spectrogram (since the minimum and maximum frequencies of both calls are about the same), note that the darkest part of the Pacific Wren spectrogram (and therefore the loudest part of the call) tends to concentrate around 6-7 kHz, while the darkest part of the Winter Wren spectrogram comes in at about half that.  This accounts for the perceptual difference in pitch.
In my next post I'll look at how to tell these two species apart by song.  As these two are both fantastic singers, it will be a melodious post indeed!